at The Groove Hound
Philadelphia's premier dog club offering DOGGIE DAYCARE,
MEMBERS ONLY 

OVERNIGHT BOARDING,  
DOG WALKING, TRAINING, RESCUE AND MUCH MUCH MORE!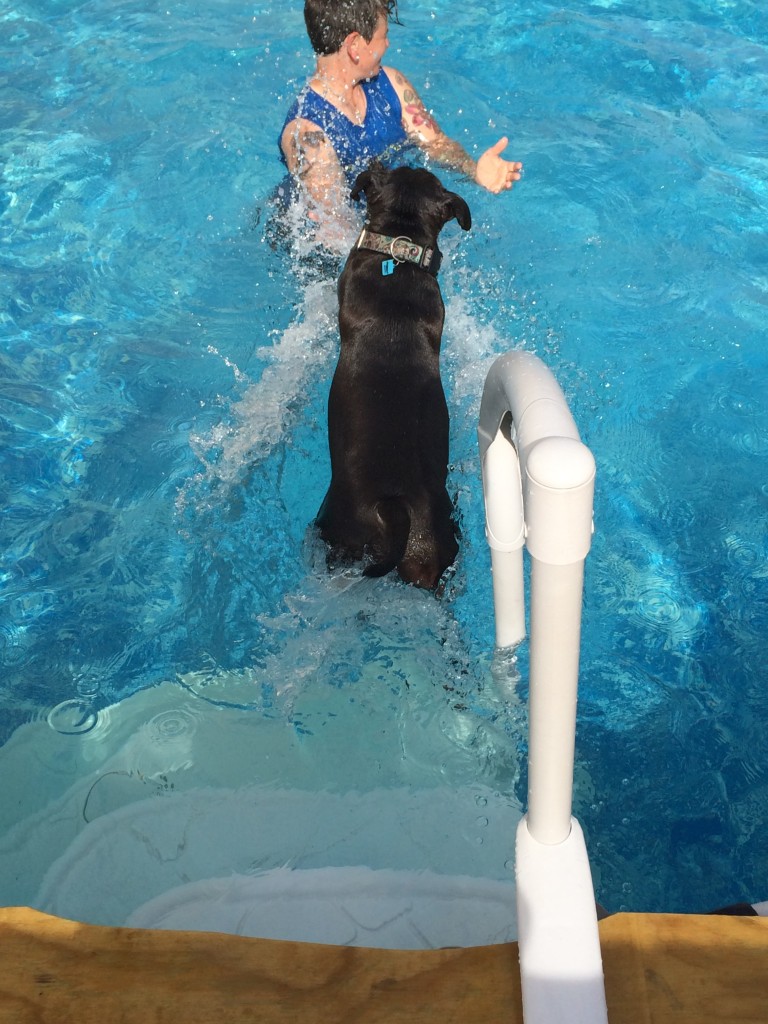 Ahh sssSUMMMMMMERR!!!! This past winter was so awful we felt we needed something REALLY special to wash away our winter blues, so…we installed a pool!!  That's right, the rumors are true; The Groove Hound has a POOL!!!  Not only are we the only doggie daycare offering indoor and OUTDOOR play areas, now we have a pool to boot.  
Our specially designed pool came all the way from sunny California where it was built and created JUST FOR DOGS!!  The outside of the pool is constructed from the same materials used in kayaks and the triple filtration system keeps the pool fresh,  clean & bacteria free.  Wagtastic!!
The pool officially opened for all daycare attendees on MONDAY, JUNE 9, 2014.
Want to get your dog into the summer action at the Groove Hound?  Email or call to begin the enrollment process!!
Hours of Operation
The Playground:  Monday – Friday 7am – 7pm
Office Hours: Tuesday – Friday 8a-10am **
**Since we are basically a "Mom & Mom" shop, we don't maintain regular office hours.  More often than not it's an all hands on deck operation around here and we are actively on the floor or in the yard with the dogs.  This often creates a bit of delay when checking and returning land line calls.  The best way to get in touch with us to gain information or enroll your pup at The Playground is via email at thegroovehound@gmail.com. If you prefer to leave us a voice mail calls will be returned in a 24-48 hour period.**
Groove Hound Outbound dog walking:  Walking services available Monday-Friday 9am-6pm starting at $12.50 for twenty minute walks for single dogs. Weekend hours can be available from 11am-5pm starting at $17.50 for twenty minute walks and reservations must be made 48 hours in advance.
Contact us to make an appointment or with questions
call us:     267-909-9162
write us:   thegroovehound@gmail.com
visit us:   The Groove Hound
                2236 Frankford Ave
                  Philadelphia, PA  19125
CHECK OUT OUR GROOVY GALLERY FOR SOME AWESOME ACTION SHOTS
Cash and checks only please, Thanks!
Thanks for visiting our site! There's always a lot going on at The Groove Hound and we do our best to keep our site updated seasonally… Keep an eye out for News and events. 
Don't see what you're looking for?  Best to contact us directly so that we can give you the skinny on what's going down at The Groove Hound.  We're here to answer any and all questions you may have and ensure that by speaking with us directly, you'll get the most accurate and up to date information  to keep you in the loop. 
Older posts…
December 2013: What's new at The Groove Hound? Well, November was our BIRTHDAY, as of November 4, 2014,  it's be 5 years since we opened our doors to our first grooming clients. What an amazing journey,  we are so proud of how far we've come and thank you all for your loyalty and support.
This year we're celebrating our birthday by growing yet again.  In November, The Groove Hound welcomed our friends and family from our sister salon Suds & Swagger to our family, permanently.  Kelly and Gert decided to close down S&S in order to devote themselves full time to The Groove Hound. We'd like to welcome all of our S&S clients & volunteers and look forward to a successful merger.  Additionally, The Groove Hound's outbound team has been busy pounding the pavements with our four-legged pals by branching out to include Dog Walking Services. After several years, our good friends at Love City Pets, Brent & Chrissy West, decided it was time for them to move on with the next chapter in their life and they've entrusted us with taking care of their beloved dog walking business and it's clients. Effective immediately, The Groove Hound will officially be offering dog walking to our list of available services!

So, quick re-cap:  Happy Birthday Groove Hound, "Welcome" to the gang of Suds & Swagger  & Hurray for dog walking services now available through The Groove Hound!!!
Contact us to make an appointment
call us     267-909-9162
write us   thegroovehound@gmail.com
visit us    The Groove Hound
               2236 Frankford Ave
               Philadelphia, PA  19125