Wanna play?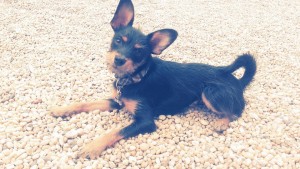 We are open Monday through Friday 7am to 7pm!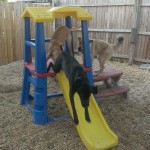 Let your dog spend their days romping around with some buddies at  The Playground! To get groovy with us please fill out the forms below and read through our policies,
PLAYGROUND ENROLLMENT APPLICATION
Questions?  Forms filled out, what's next?   Contact us: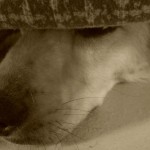 write us   thegroovehound@gmail.com
_______________________________________________________________________
AT THE PLAYGROUND
We offer cage free indoor and and LARGE outdoor space and a POOL for your dog to play while you are away. Currently Playground capacity is 25-30 dogs.  Once enrolled we do not require pre-booking or reservations. As long as you arrive by 8:30am to drop off your dog, you're guaranteed a spot for the day.  We do have a minimum attendance requirement of  4 visits per month (preferably once weekly). Exceptions are made for illness, emergencies or extended vacations and must be discussed in advance with Playground staff. Contact us to find out why.
OUR PLAYGROUND HANDLERS ARE AWESOME
10-1 dog to human ratio. Our daycare is structured interactive play which means rather than sitting around reading or texting our handlers are actively playing with  your dogs as well as working on general obedience and reinforcing good manners. We have brushes for a mid afternoon pampering and tons of fun outdoor activities to stimulate your little buddy throughout the day. During the day we'll take pictures and videos of your pup and post them on our Facebook so you can catch a glimpse of your furry friend in action.   As if that's not cool enough –  all of our handlers have completed K9 First Aid and safety courses and our owners are K9 CPR certified.
PLAY HOURS
Mon-Fri 7am-7pm
Can't be without your dog for a whole day? No worries, half days available 7am-1pm.
Drop off is between the hours of 7-8:30am. We do not accept dogs after 8:30am.
Pick up is between 4-7pm for full day dogs, half day pick up is between 12-1pm.
 WHAT MAKES A DOG GROOVY?
Attitude 
Dogs must be friendly towards people and other dogs and display no signs of aggression. Before your pups first day at The Playground they'll have to pass a quick behavior evaluation during a meet & greet.  We'll set up a time to meet your pup at the daycare and introduce them to a few members of our own pack so that we can see how he/she gets on with other dogs in an active play setting. We'll have a brief consultation getting to know a bit more about your dogs habits, history and lifestyle.  After about 15-20 minutes if all goes well, your free to be on your way and leave your pup for a fun filled day at The Playground.
Status
Your pet must be up to date with the following vaccinations
– Rabies, DHLPP, Bordetella & Canine Influenza *** We require re-ups on Bordetella every   6 months even though the vaccination can be given once yearly.
– Must be in overall good health
– Must be free of fleas, ticks, or any communicable disease
Age
All dogs must be 16 weeks or old enough to have all vaccinations
Other Requirements
As adoption and rescue advocates we believe in spay & neutering your pet. While we welcome dogs of any breed & size, both pure bred and mutts alike, we require that all dogs, 6 months of age and older, MUST be SPAYED & NEUTERED. No exceptions.
PLAY PRICING 
Single Dog Rates
Daily Drop- In:  $30  per day
10 pack:            $280 = $28 per day  *expires within 45 days of purchase
20 pack:            $530 = $26.50 per day  *expires 10 weeks from date of purchase
Monthly Unlimited = $500.00*
*This package is designed for those who plan to use daycare services 4 or more times a week every week, frequent flyers, so to speak. Purchase of this package guarantees your pup can play as often as he/she wants throughout the month. That's a rate as low as about $23 a day!!! This package DOES expire within ONE MONTH from the date of purchase. Unused days do not roll over to the next month unless of course an unexpected emergency interferes with your use of the package.
Multi-Dog Families (You must own both dogs to be eligible for this discount)
Daily Drop in:  $55 = $27.50 a day per dog
10 pack:         $500 = $25 day per dog *expires within 45 days from date of purchase
20 pack:         $975 =  about $24 a day per dog *expires 10 weeks from date of purchase
Monthly Unlimited $950 =  $475 a month per dog or about $21 a day per dog                               *Expires one month from date of purchase
We love dogs and we will surely love your dog, however we have a full house as is, so if you forget to pick up your pup or do not arrive by closing time at 7pm, your dog will be boarded for the night at your expense. Additional fees will be applicable and non-negotiable. Payment is due at the end of the day when you pick up your dog.  Package payments MUST be made in advance.  Late payments not received by the end of the week will be subject to a 10% late charge.