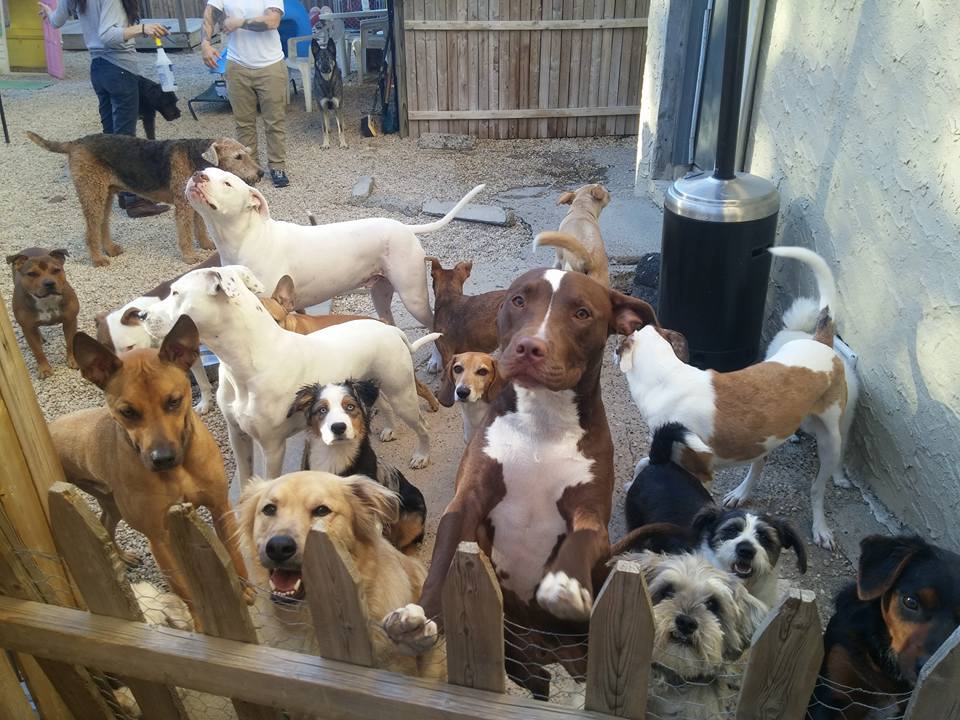 ENROLLMENT
Wanna play?
Let your dog spend their days romping around with some buddies at The Playground!
To get groovy with us please start by filling out the form below and reading through our policies.
Questions?  Your form is filled out, what's next?
Contact us: thegroovehound@gmail.com
———————————————————————————————–
PLAYGROUND HOURS & ATTENDANCE
The Playground operates Mon-Fri between 7am-7pm.
Drop off for a full day is between the hours of 7-8:30am.
We do not accept dogs after 8:30am. 
Pick up is between 4-7pm* for full day dogs.
Can't be without your dog for a whole day? No worries, half days available 7am-1pm.
*We love dogs and we will surely love your dog, however  if you forget to pick up your pup or do not arrive by closing time at 7pm, additional fees will be applicable and non-negotiable ($1/minute for every minute you are late). 
Once enrolled we do not require pre-booking or reservations. As long as you arrive by 8:30 am to drop off your dog, you're guaranteed a spot for the day.
We do have a minimum attendance requirement of 4 visits per month (preferably once weekly). Exceptions are made for illness, emergencies or extended vacations and must be discussed in advance with Playground staff. Contact us to find out why.
———————————————————————————————–
PRICING
Single Dog Rates
Daily Drop- In:  $30  per day
10 pack: $280 = $28 per day  *expires within 45 days of purchase
20 pack:  $530 = $26.50 per day  *expires 10 weeks from date of purchase
Monthly Unlimited = $500.00*
*This package is designed for those who plan to use daycare services 4 or more times a week every week- frequent flyers, so to speak. Purchase of this package guarantees your pup can play as often as he/she wants throughout the month. That's a rate as low as about $23 a day!
Multi-Dog Families
You must own both dogs to be eligible for this discount
Daily Drop in:  $55 = $27.50 a day per dog
10 pack:  $500 = $25 day per dog *expires within 45 days from date of purchase
20 pack:  $975 =  about $24 a day per dog *expires 10 weeks from date of purchase
Monthly Unlimited $950* =  $475 a month per dog (about $21 a day/per dog)
*Monthly packages expire one month from date of purchase. Unused days do not roll over to the next month unless an unexpected emergency interferes with your use of the package. Rollover packages are subject to the discretion of management. 
Payment is due at the end of the day when you pick up your dog.  Package payments MUST be made in advance.  Late payments not received by the end of the week will be subject to a 10% late charge.
The Groove Hound accepts cash, check or Venmo.
———————————————————————————————–
WHAT MAKES A DOG GROOVY? (REQUIREMENTS)
PA State Requirements
Your pet must be up to date with the following vaccinations
– Rabies, DHLPP, Bordetella** & Canine Influenza*
*The Groove Hound requires physical copies of your dog's rabies certificate, and all vaccinations, for enrollment.
**We require re-ups on Bordetella every  6 months, even though the vaccination can be given once yearly.
Additional physical requirements:
– Must be in overall good health
– Must be free of fleas, ticks, or any communicable disease
– Must be at least 16 weeks old /old enough to be vaccinated.
Temperament
Dogs must be friendly towards people and other dogs and display no signs of aggression, or have a history of aggression/biting/unfriendliness towards other dogs. Before your pups first day at The Playground they'll have to pass a quick behavior evaluation during a meet & greet.
We'll set up a time to meet your pup at the daycare and introduce them to a few members of our pack so that we can see how he/she gets on with other dogs in an active play setting.
During the meet and greet, we'll also have a brief consultation to get to know a bit more about your dog's habits, history and lifestyle.  After about 15-20 minutes if all goes well, you're free to be on your way and leave your pup for a fun filled day at The Playground.
What else?
As adoption and rescue advocates we believe in spay & neutering your pet. While we welcome dogs of any breed & size, both pure bred and mutts alike, we require that all dogs, 6 months of age and older, MUST be SPAYED & NEUTERED. No exceptions.
———————————————————————————————–
ABOUT THE PLAYGROUND
We offer cage-free indoor, as well as a huge outdoor space, for your dog to play while you are away. Currently, Playground capacity is 25 dogs – this means more space and attention for your pup!
The Playground prioritizes a happy and healthy environment for your dog. The day will be filled with playtime, nap time, socialization and groovy vibes – our goal is to send your pup home from school happy and tired from a day of play! The dogs always come first, and we pride ourselves on having the happiest pack around.
We love dogs, first and foremost, and look forward to welcoming you and your pup to our Groovy family!
———————————————————————————————–