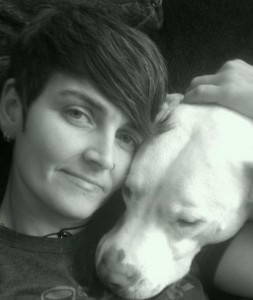 Gert has always been an enormous animal lover. From a very young age her passion for animals was impossible to ignore. Their health, care and well-being have been at the forefront of all her life choices and she tries to live her life in a way that she feels honors their existence.  Growing up animals of all kinds were always a part of the Schooley family. Gert welcomed them into her home over and over, with no regard for cost or how it may disrupt or inconvenience her life. As far as  she was concerned, the animals needs came first, she believed in them and they, in turn, believed in her.  Some animals, originally destined to become dinner, were pardoned due to Gerts' unbridled belief in life, and they too became a part of her family. True Story.  "Scrumptious", a live Thanksgiving Turkey, spent several years as a Schooley family pet, thanks to Gert. Also true, the love Gert feels for all walks of animal life is returned to her ten-fold by the animals themselves.  They naturally gravitate towards her; trusting her when they have no reason to trust. It was, of course, the natural progression of overwhelming chemistry between Gert and the animals that lead her into this career.
By the age of 18, Gert accepted her first official position at a well known kennel in New Jersey. As a kennel worker she was responsible for a variety of duties including cleaning out cages, walking dogs, feeding, medication disbursement and client relations. As it happened, one day member of the grooming team was suddenly unable to work.  With a full day of clients ahead the kennel staff asked Gert to lend a hand bathing dogs.  She happily rose to the challenge, and bailed her team out of a tight spot. On this day, her grooming story began.  Gert continued to work at the kennel for the next 5 years, gaining experience and honing her handling skills.  At 24, Gert took a break from the animal world and followed her second greatest love, the Art of dance, to Dean College in Boston, Mass.  After, many years of brilliant dancing, an unfortunate injury forced Gert to part with her love and return home.  With many choices ahead she followed her heart to Scissors and Suds, in Collingswood, NJ. Reigniting her love affair with animals, she happily found a home there under the loving guidance and experience of Helen Rubino. Together the pair spent 11 years loving, grooming, and winning the hearts of the dogs AND their human companions. Though sad to leave a shop that had become a second home and a dear friend, Gert realized it was time to branch out on her own.  She said goodbye and with just the money in her pocket she set forth on the next leg of her adventure; combining her love of motion and dogs she built "The Groove Hound".
It took a few weeks, a great friend, a couple cases of beer, and an enormous amount of blood, sweat and tears to get The Groove Hound up and ready for business! Of course, all she needed now was some clients.  She pounded the pavement and told everyone she knew to get the word out and it worked. Opening day came on November 4, 2008. Gert opened her doors to only a few clients that day but before she knew it, business took off.  For the last five years Gert has continued to provide an outstanding level of care for her clients, always keeping an eye on the upcoming trends in health, care, overall maintenance, and welfare. After 22 years of experience and 9 dogs in her personal pack, Gerts K9 knowledge is extensive. Adding a professional training certification to her resume in 2010, Gert keeps looking for opportunities to expand and grow. Helping both dogs and people alike, from basic grooming needs, to the best advice on food, training and care, Gert is always just a phone call away. She has built an outstanding reputation and looks forward to sharing her care, compassion and knowledge for many years to come.